Hoisting Engineer – Tower Crane Operator
---
Description
Tower crane operators maintain and operate tower cranes. Tower cranes are used to move machinery, materials, and other large objects at construction sites and industrial yards. Operators manipulate several pedals and levers to rotate the crane and raise and lower its boom and loadlines.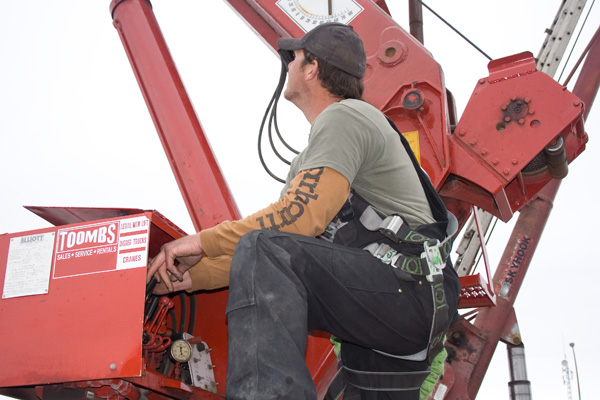 ---
Certification Requirements
The Tower Crane Operator apprenticeship consists of 3,000 hours of combined on-the-job and in-class technical training.
Apprentices must complete 360 hours of in-class technical training.
Once you have successfully completed the apprenticeship requirements, you receive a Certificate of Apprenticeship and are considered a journeyperson candidate. You must challenge the Certificate of Qualification exam and pass to become certified as a journeyperson and be legally allowed to work in the trade in Ontario.
A person with at least 3,000 hours of related work experience is eligible to apply for a Trade Equivalency Assessment (TEA) and challenge the Certificate of Qualification exam to become certified as a journeyperson in this trade.
If you pass the Interprovincial Standards Examination, you qualify for Interprovincial Red Seal Certification.
---
Educational Prerequisites
Grade 10 or equivalent. Note: High school graduation is recommended. Employers often require more than the minimum educational requirements set by the province. They may also prefer apprentices who have taken certain courses related to their program.
---
In-Class Training
Please contact your local apprenticeship office for information on the availability of technical training for this program.