Mould or Die Finisher
---
Description
Mould or die finishers use a variety of power and hand tools to shape, smooth, finish, and polish moulds or metal working dies. They use math skills to calculate and measure these pieces, and they must be able to read instructions and interpret blueprints. They inspect finished products to make sure the pieces have been made with care and precision.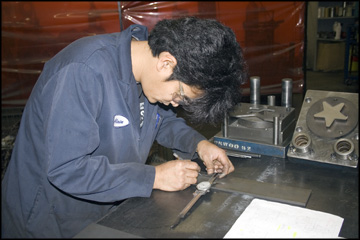 ---
Certification Requirements
The Mould or Die Finisher apprenticeship consists of 3,760 hours of on-the-job training.
Apprentices must also complete 240 hours of in-class technical training.
Once you have successfully completed the apprenticeship requirements, you receive a Certificate of Apprenticeship and are certified as a journeyperson in the trade.
A person with at least 4,000 hours of related work experience is eligible to apply for a Trade Equivalency Assessment (TEA) and, if successful, becomes certified as a journeyperson in this trade.
---
Educational Prerequisites
Grade 12 or equivalent.
---
In-Class Training
Please contact your local apprenticeship office for information on the availability of technical training for this program.