Baker-Patissier
---
Description
Baker-patissiers bring beauty to baked goods. They bake and decorate cakes, pastries, and confectionery. They also work with icings, fillings, and creams. Patissiers' work can include arranging store displays, keeping inventory, and business and marketing.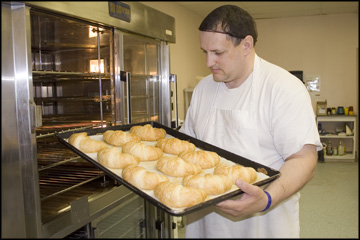 ---
Certification Requirements
The Baker-Patissier apprenticeship consists of 6,130 hours of on-the-job training.
Apprentices must also complete two 12-week sessions plus 150 hours of in-class technical training.
Once you have successfully completed the apprenticeship requirements, you receive a Certificate of Apprenticeship and are considered a journeyperson candidate. If you choose to challenge the Certificate of Qualification exam and pass, you become certified as a journeyperson in the trade.
A person with at least 7,000 hours of related work experience is eligible to apply for a Trade Equivalency Assessment (TEA) and challenge the Certificate of Qualification exam to become certified as a journeyperson in this trade.
If you pass the Interprovincial Standards Examination, you qualify for Interprovincial Red Seal Certification.
---
Educational Prerequisites
Grade 12 or equivalent.
---
In-Class Training
Please contact your local apprenticeship office for information on the availability of technical training for this program.